Floor Plans
Please click on the plans to get an enlarged view...
Manhattan by SVG is a picturesque, luxury residence tower in Basvangudi, Bengaluru. Open doors to luxury, privacy and convenience. With architecture and interior design by VMD studio and lighting design by Ray 7, the property recreates the stylish ambience of luxury Manhattan living, offering international lifestyles of elegance and style.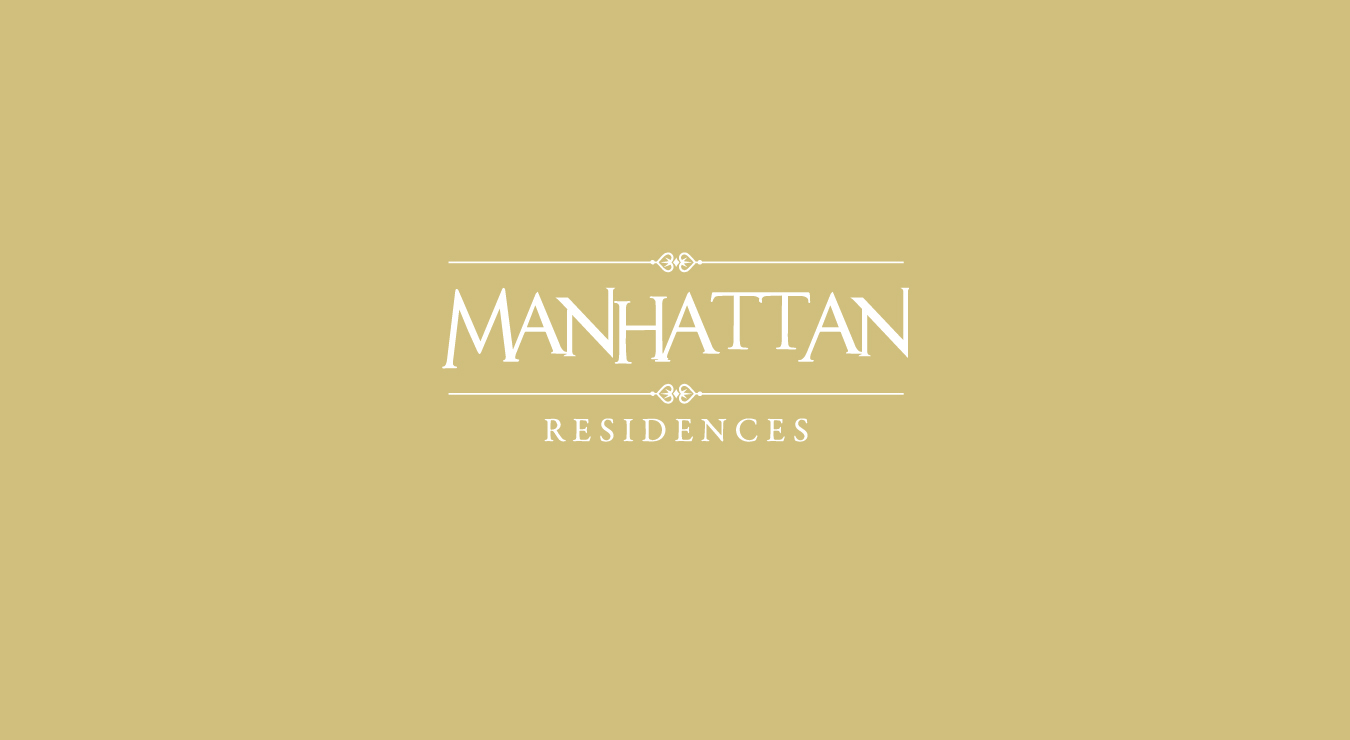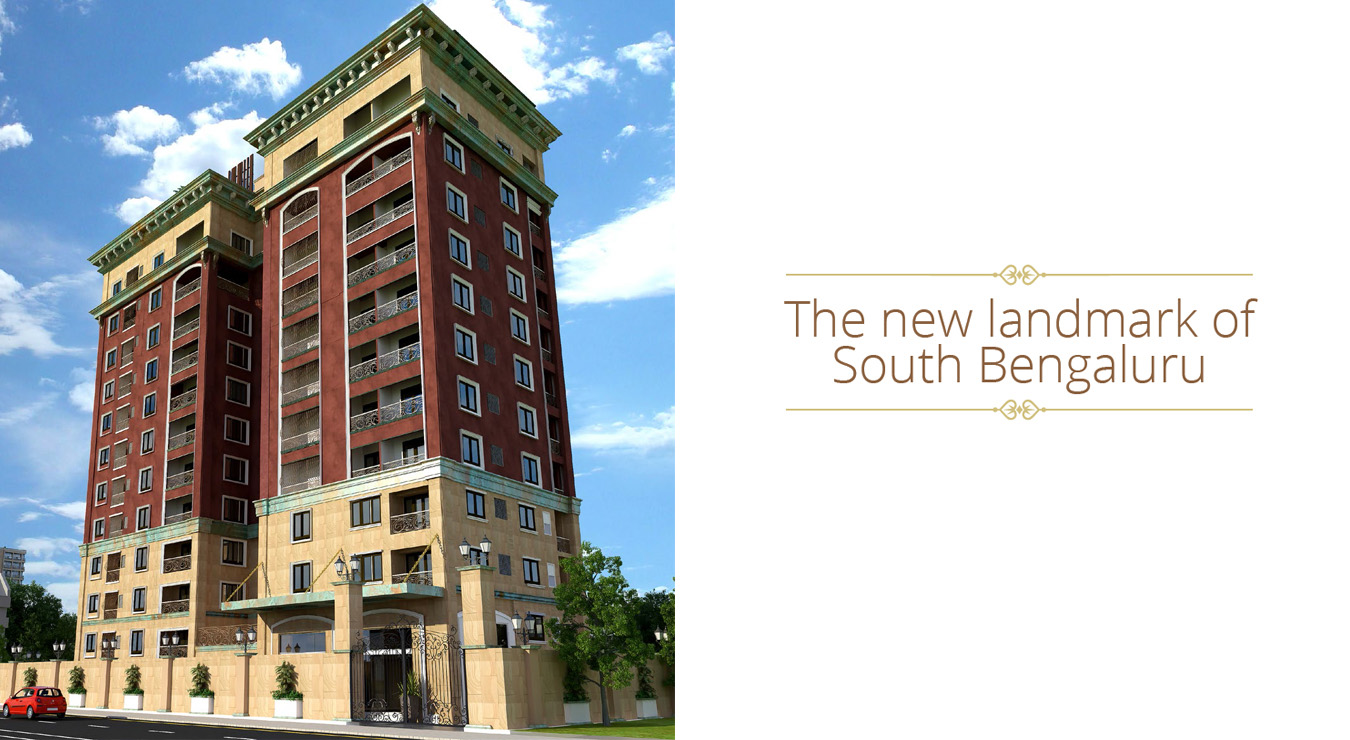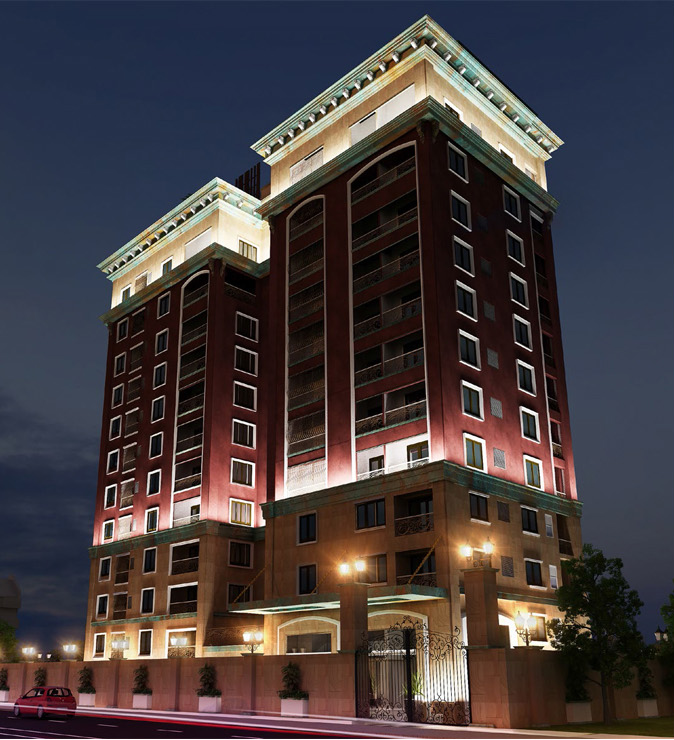 MANHATTAN
Manhattan by SVG is a picturesque, luxury residence tower in Basvangudi, Bengaluru. Open doors to luxury, privacy and convenience. With architecture and interior design by VMD studio and lighting design by Ray 7, the property recreates the stylish ambience of luxury Manhattan living, offering international lifestyles of elegance and style.
These global experts have come together to create a property that is uptown and upscale, while upholding the principles of exquisite living. SVG Manhattan stands tall in south Bengaluru, towering above its prestigious neighbourhood. Situated in the heart of the city, the property offers an expansive, uninterrupted view of the breathtaking lal bagh. Breathtaking from the outside and from within, the property spoils us for choice with a suite of amenities that takes comfort and luxury to a whole new level.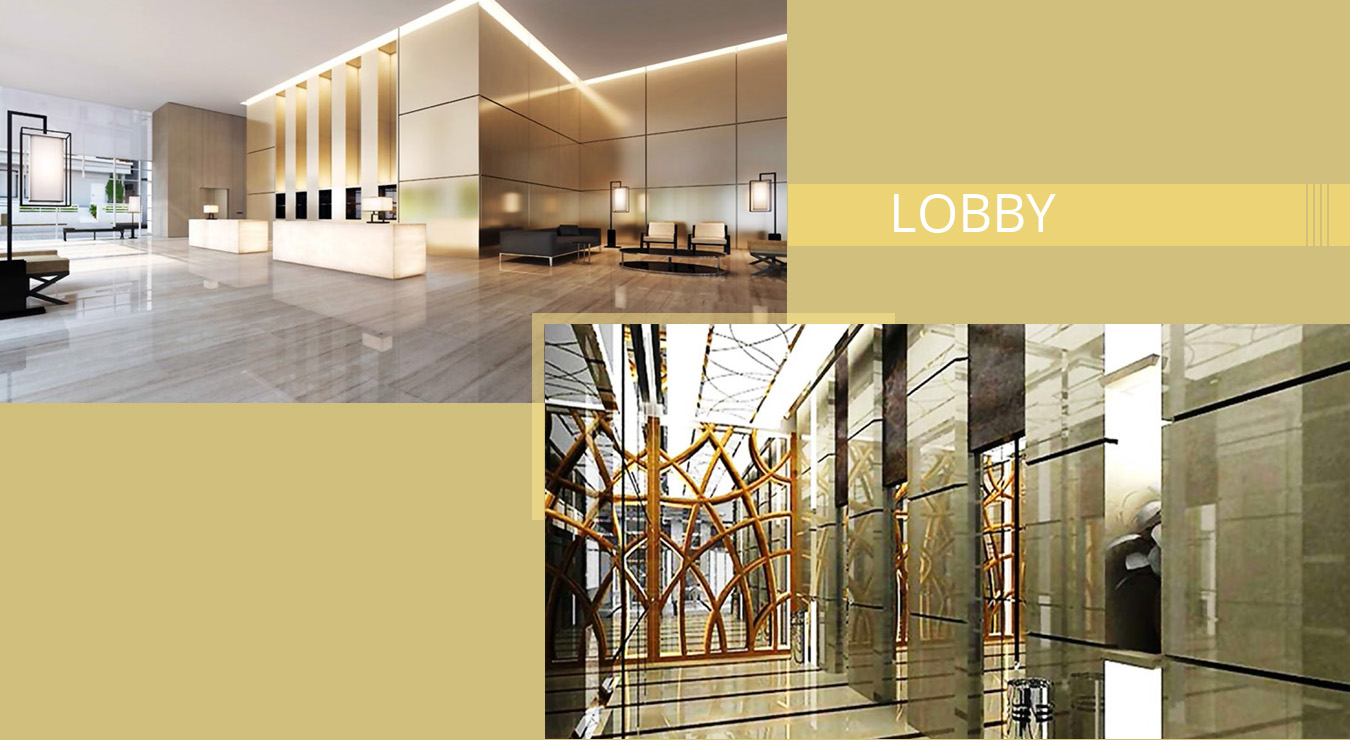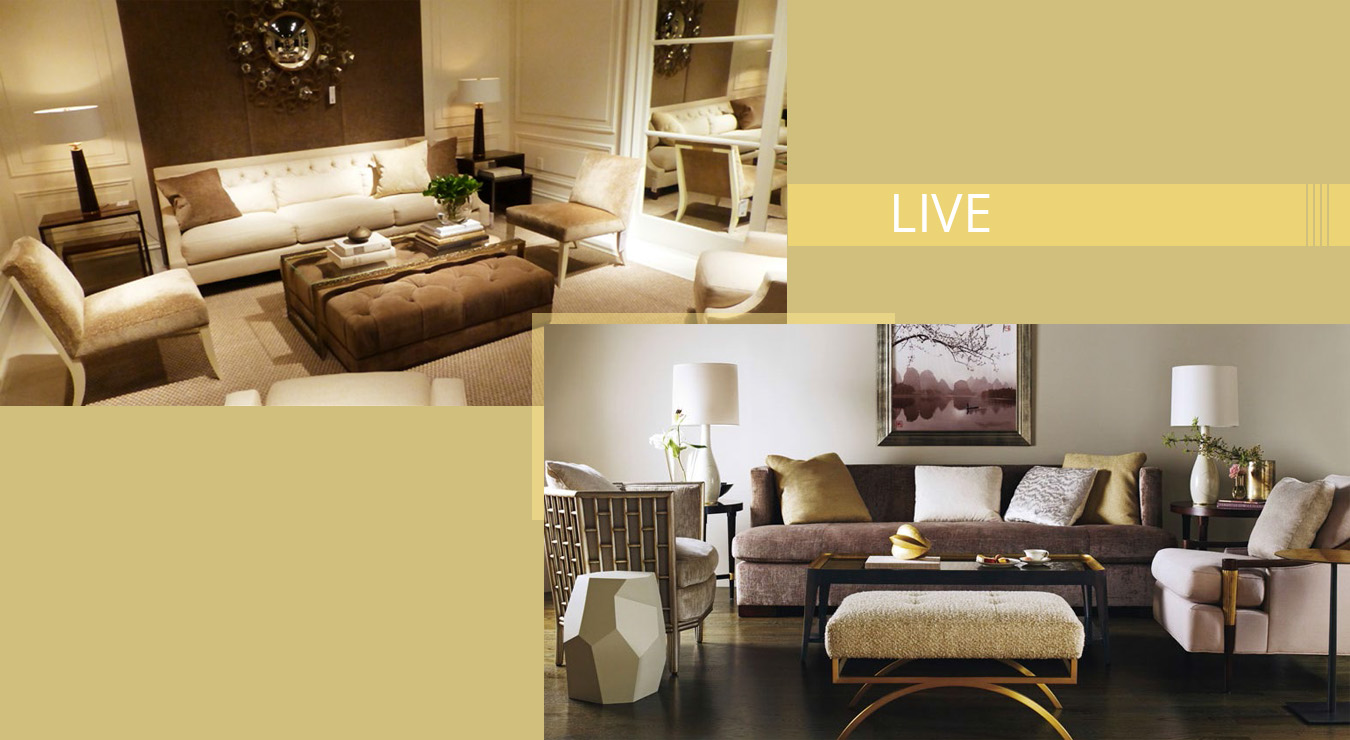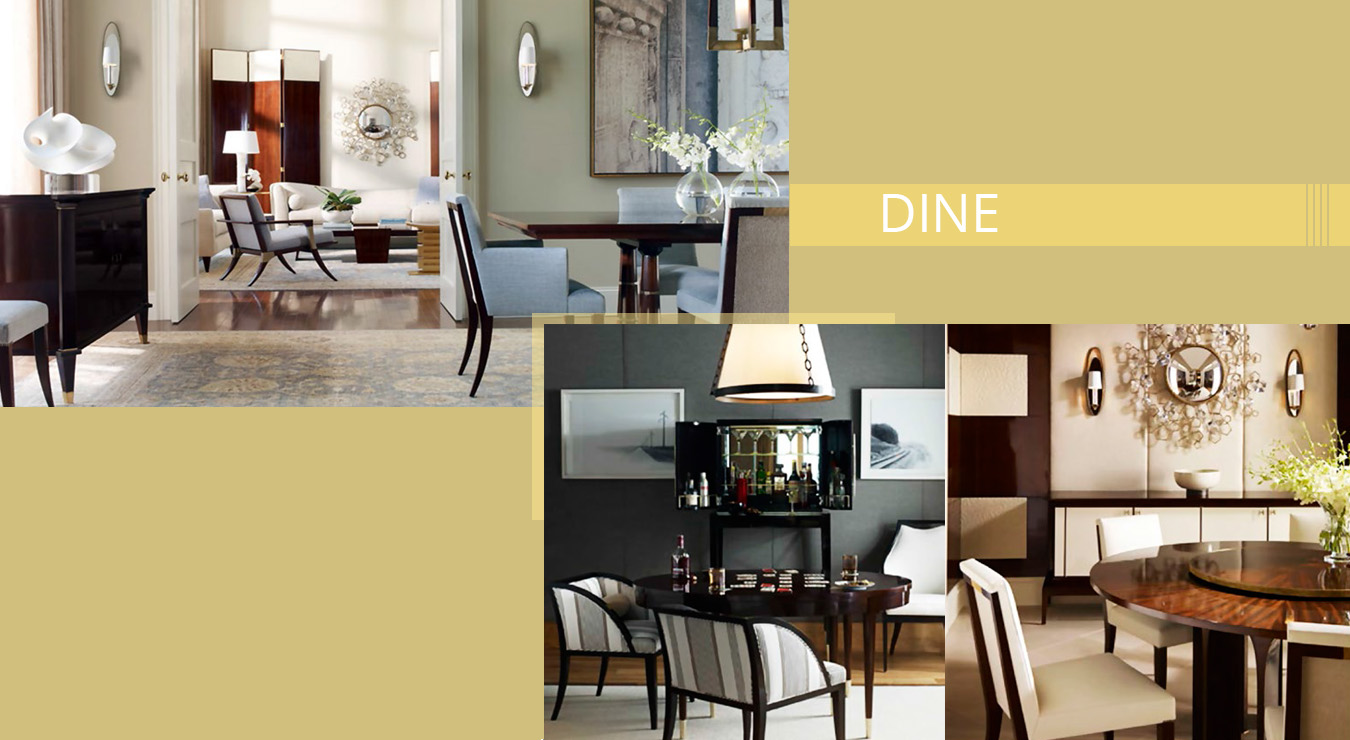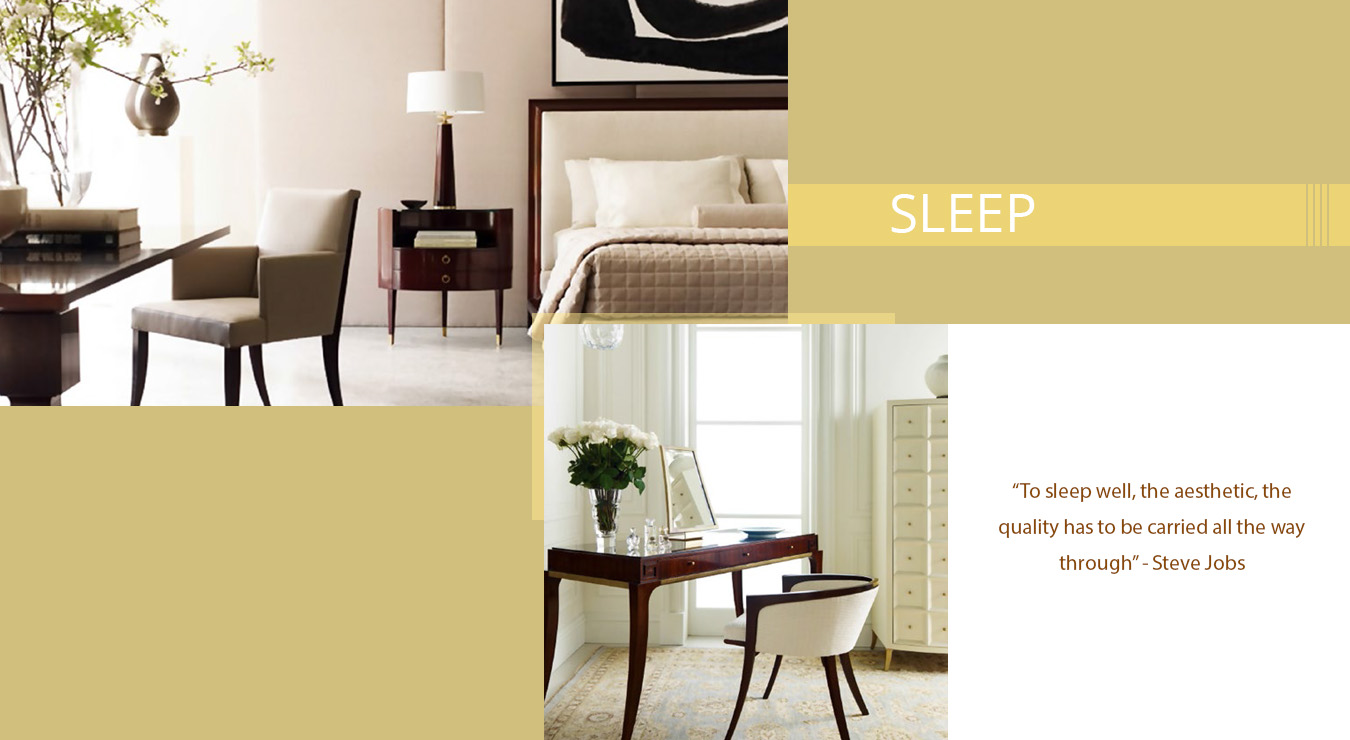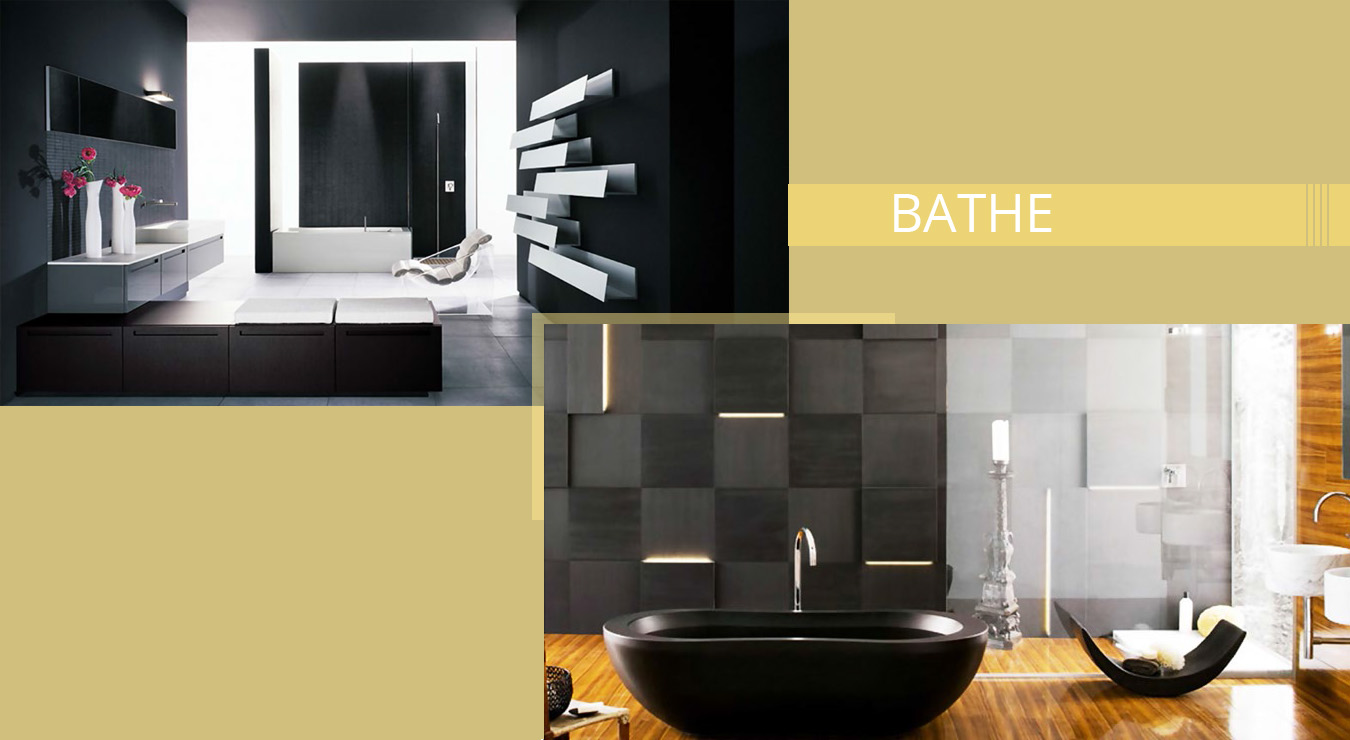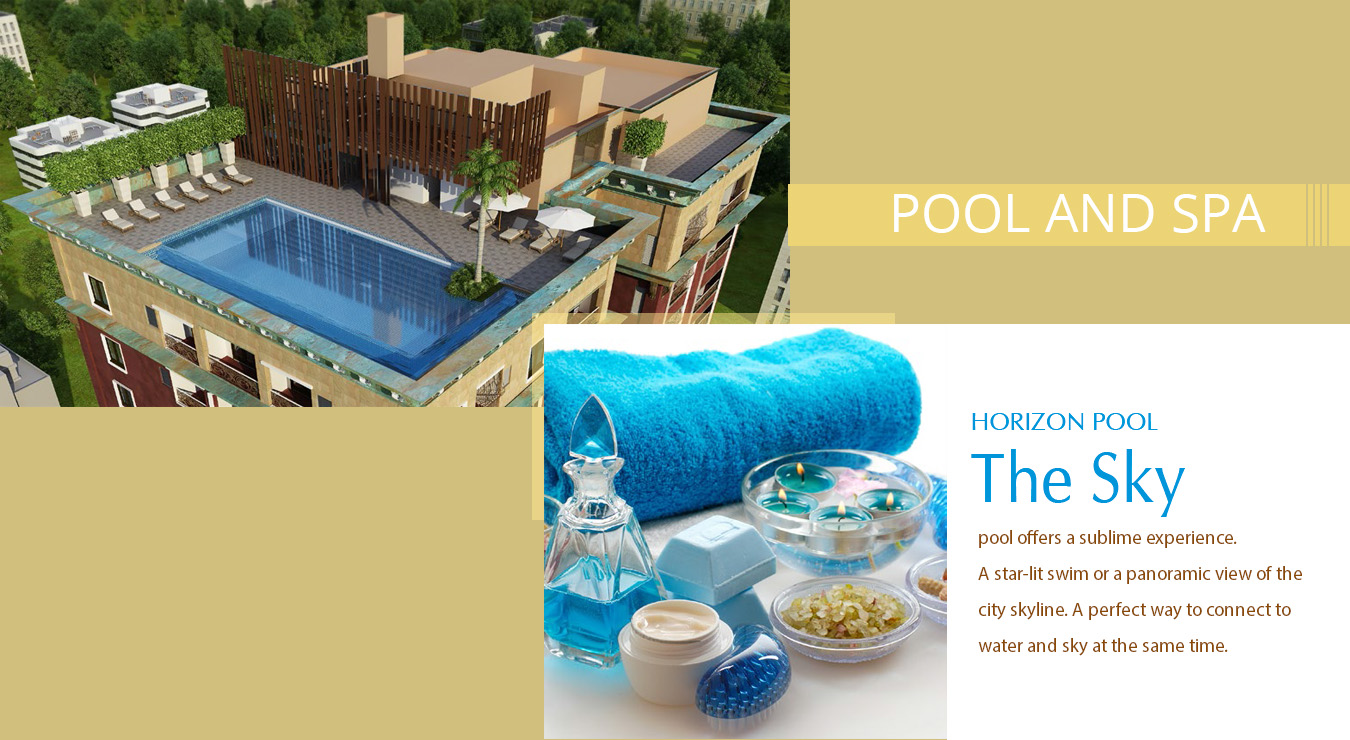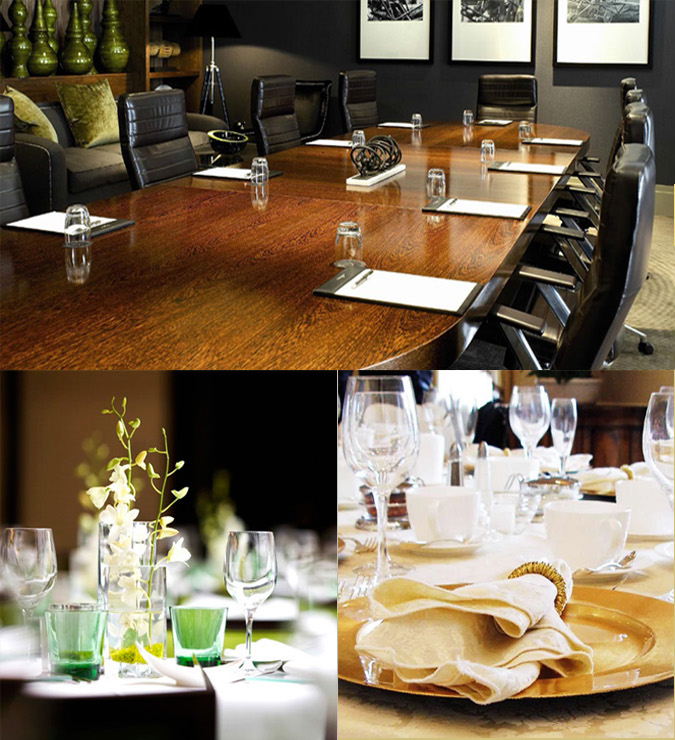 BOARDROOM & CAFE
EXTEND OFFICE HOURS TO AFTER HOURS
Access to a personalized boardroom, residents at Manhattan can catch up on work or host their business meetings. Fully equipped with a projection screen and state-of-the art facilities. With the delicacies of La Marvella at your disposal, a fully functional luxury cafe, work need not take you very far from home.
Floor Plans
floor plan - Ground Floor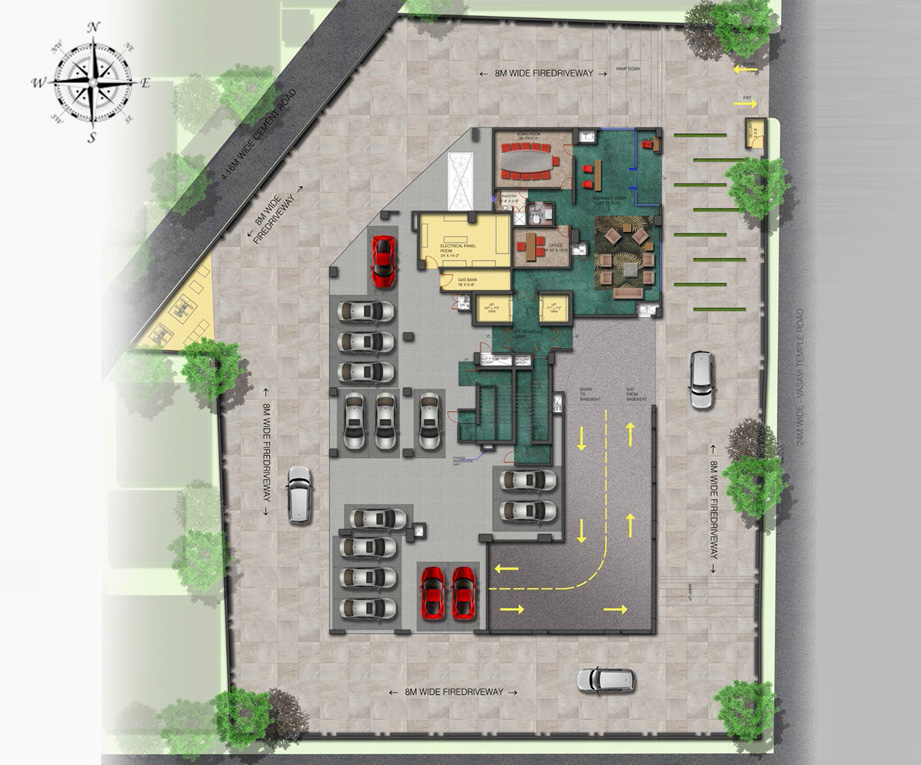 floor plan - Level 1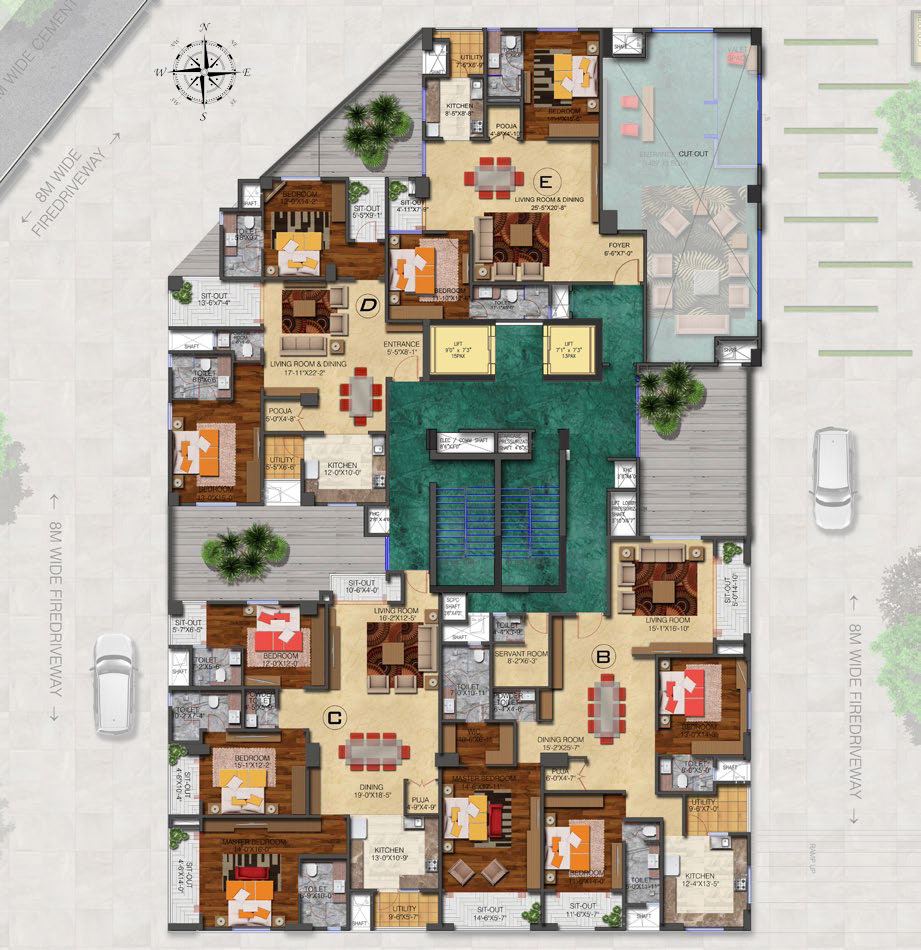 Features
Structure:
Seismic Zone – II & wind speed of 33mtrs per second complaint RCC framed structure.
8" Solid Block & 4" Solid block Masonry
PAINTING:
Interiors: Premium Royal silk with flawless finish.
Exteriors: Slate/engineered stone exterior cladding and Maintenance free cement paint or equivalent Solutions (textured finishes).
FLOORING:
Common staircase will have Granite flooring.
Hand picked Imported Marble for Living, Dining and wooden floor/granite/marble in all bedrooms & Anti skid tiles/ flamed/brushed granite in Kitchen.
TOILETS
Designer bathrooms with Marble/granite vanity and sidewalls with designer tiles.
Sanitary fittings with Toto/ Roca/ Faucets, mixers, diverters, showers with Toto/Artize/Hans grohe or equivalent.
Shower cubicles and geysers in all toilets.
KITCHEN:
Branded Italian Modular kitchen with Provisions for electro-domestic equipment (optional)
RO purified drinking water in the kitchen
ELECTRICAL
8 to 10 KVA power per unit.
Designer modular switches from Schneider or equivalent.
Miniature circuit breaker (MCB) for every room located at the electrical distribution box within each flat.
Earth leakage circuit breaker ( ELCB) for each unit.
Telephone & TV points in all bedrooms and Living room.
LIFT
Two imported Automatic lifts of Mitsubishi/Schindler/kone make with SS Vandal proof panels and security systems.
SECURITY SYSTEMS
Electronic security with video camera connected to security cabin / intercom to all flats EPABX SYSTEM:
Intercom facility to security cabin and inter flat communication system.
Cabling for Broad band combination voice cable / 4 pair cabling.
GENERATOR BACKUP
100% Standby generator power for lighting for all flats.
EB power supply.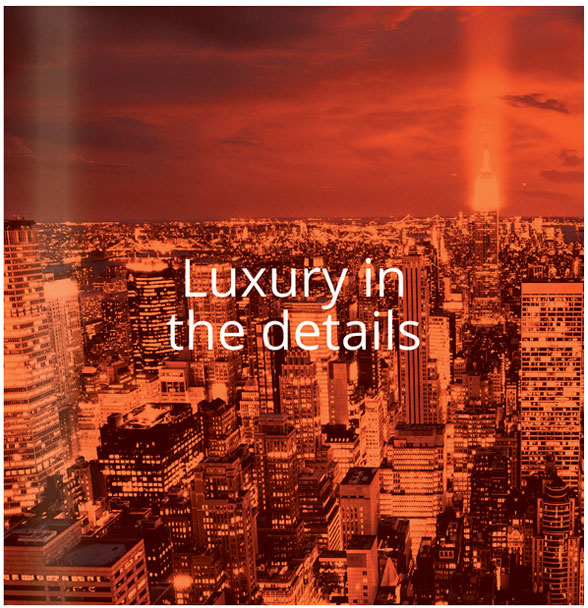 UNIQUE FEATURES
Luxury and privacy.
Excellent ventilation and light for all units.
Hydro ­pneumatic pumps for equally pressurised water distribution.
Central RO plant for purified water supply in the kitchen.
Electronic security and video door phone and intercom for enhanced safety.
Roof top horizon pool and Fitness centre.
Concierge and reception desk and boardroom in the lobby.
STATUTORY APPROVALS
We have obtained the following approvals for this projects:
Airport Authority of India
Bangalore Electricity Supply Company (BESCOM)
Karnataka Fire & Essential Services
Bangalore Sanchar Nigam Limited (BSNL)
Sanctions from BBMP
Sanctions from BWSSB
SMART HOMES
SMART AND SECURE
Commitment to quality and the use of state­of­the­art technolgy ensures smart, fail­safe­systems with optimal use of energy. Products and systems are handpicked from trusted brands and manufacturers.
CAMERA DOOR PHONE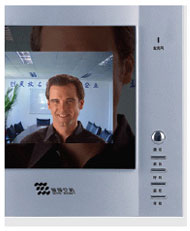 A strategically places camera outside the front allows you to see who is at the door, its speaker phones lets you communicate with vicitors.
NYLON SCREENS: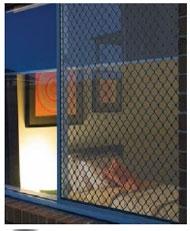 Windows and French windows have siding wooden panels with fine nylon screens to provide protection from mosquitoes and insects.
IP CAMERAS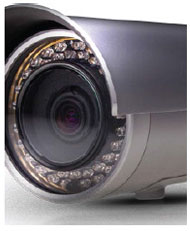 Keep an eye on your premises from wherever you are, a high resolution IP camera provides real time video output that can be viewed by logging on to designated server.
MAGNETIC DOOR STOPPERS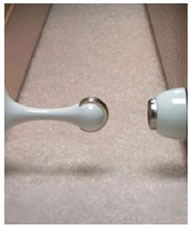 Due to the breeze that blows freely trough the villas, the chance of door banging is very high. This wall mounted stopper provides protection by ensuring the door does not ram into the wall even when flung open.
GAS LEAK DETECTOR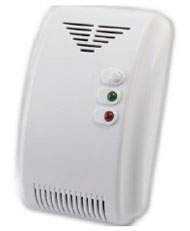 The gas leak detector in the kitchen is part of an array of advanced safety features in each home. In case of a leakage it eases a timely warning that could well turn out to be life saving!
ELECTRONIC LOCK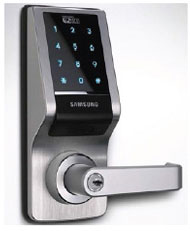 The front door lock employs proximity card/ password based technology which offers high levels of security. Its functions can be home automation console.
VRV AIR CONDITIONERS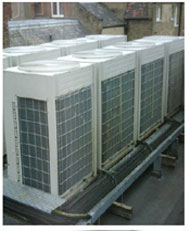 Advanced hybrid air conditioners not only cool, but also efficiently recycle air, keeping rooms fresh at all times (Optional )
MOTION SENSORS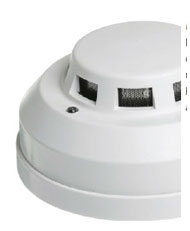 Infrared motion sensors detect any untoward movements inside your home and triggers off alarms. (Optional)
GREEN LIVING
SVG projects are being developed to blend with nature. It incorporates sustainability in a practical and realistic way.
SVG Properties, Building with Nature.
SITE SUSTAINABILITY MEASURES
Minimization of soil erosion during excavation.
Protection of top soil and reuse of the same.
Development of landscaping areas and terrace gardens to promote biodiversity.
Provision of bicycle parking spaces to promote use of alternative transportation.
Provision of battery charging stations for electric vehicles to promote electric vehicles and thereby minimise pollution from regular vehicles
The entire premises is designed to accommodate differently­abled persons.
WATER CONSERVATION MEASURES
Use of low­flow and water efficient toilet fixtures to reduce overall water consumption of the building by over 30%
100% treatment of grey water and reuse for landscaping and flushing purposes.
Use of native and drought tolerant landscaping species to reduce irrigation water requirements.
Rain water harvesting through provision of storage tanks and recharge pits on site.
ENERGY EFFICIENCY AND CONSERVATION MEASURES
Climate responsive design where care has been taken to locate every homes so as to minimize heat ingress.
Selection of high performance building envelope including high performance glazing and designs with external shading elements to cut direct solar radiation
Ample harvesting of natural light for every home to minimize artificial light usage.
Use of energy efficient T5 and LED light fixtures for common areas, external areas, parking and facade.
High performance VRV systems for air­conditioning to provide thermal comfort while minimizing the energy use by over 20% compared to conventional air conditioning systems
Energy efficient elevators, pumps and motors.
MATERIAL PRESERVATION MEASURES
Recycling and reuse of the waste generated during construction and diverting them from landfills.
Use of material with recycled and renewable content and locally harvested material to reduce virgin material exploitation.
Use of low embodied energy materials and natural material instead of conventional civil and interior material.
INDOOR ENVIRONMENTAL QUALITY MEASURES
Excellent natural lighting therby reducing the use of artificial lighting during the daytime and also providing better indoor environment.
Use of natural, nontoxic materials such as low VOC (Volatile Organic Compounds) paints and finishes for a better indoor environment
Good view to the exterior and overall better indoor environment ensuring health and well being for all occupants.